It's a funny old world. Until I purchased this neat joystick I didn't even realise it existed. It caught my eye on eBay, sitting there with its attractive "buy it now" tab glaring at me. It winked at me, and I winked back. And this is where the great love story began. I don't usually bother with third party joysticks or peripherals. But this one really caught my eye. Why? Because it was manufactured by ASCII – one of the biggest names in the Japanese video games industry.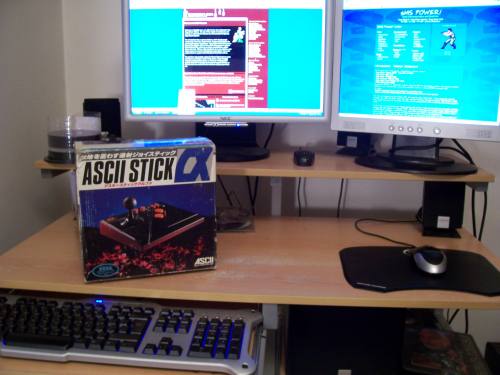 ASCII was founded in the early 1980's. Its founders were Kazuhiko Nishi - an ex-vice president of Microsoft far eastern operations and NEC executive Kazuya Watanabe. Together they created the MSX standard - the first home computer for the Japanese market. All this made me think that the ASCII Stick Alpha would be a superior product to most third party joysticks, and dare I say it, the official Sega Control Stick. Technically this joystick is for both the SG-1000 and the Master System. On the base of the unit it is marked "ASCII Corporation, Tokyo Japan 1987" – I had made the assumption that this joystick would be a "Sega Compatible" joystick that was not really intended for the Master System – more the SG 1000 and Mark III, but the date-stamp and writing on the box clearly states it is intended for use on both the Master System and SG-1000. Strangely it makes no mention of the Mark III.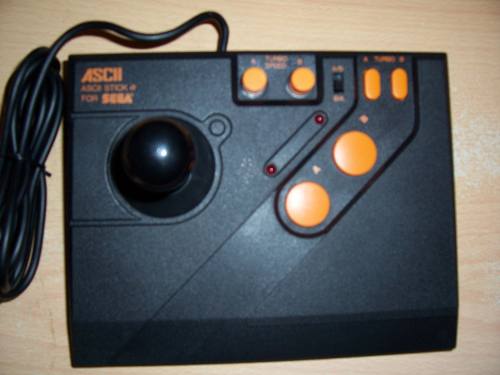 Now, I'll shut up for a second and try to answer the question which this review is supposed to cover – Is this thing any good?
Well I've used third party products in the past with mixed experience. I loved Quickshot's Wizmaster pads, but loathed Honeybee's Competition Pro pads. With this offering I have to say I'm pleasantly surprised. The joystick provides what the official Sega Control stick does not – a satisfying arcade machine feel. This thing is really solid. Weighing in at 700g and having a metal base – not a flimsy piece of plastic in sight. I tested this joystick with a variety of games – Nazca '88 (Aztec Adventure) is currently flavor of the month with me. I also tried Outrun, The Castle, Astro Warrior and Space Harrier.
The stick also has some very cool features. You really don't need a rapid fire unit with one of these around. This joystick has independently controllable turbo function, simply by pressing a button you can enable turbo-fire. As if that wasn't cool enough you can manually adjust the speed of the turbo-fire by adjusting an analogue switch. You can have "slow" turbo or "extreme" turbo, and everything in between. It even has two flashing lights which blink when turbo-fire is enabled.
Here are a couple of videos to show you the difference in speed:
Another weird but very cool feature of this joystick is the ability to reverse the buttons. With the flick of a switch, button one becomes button two and vice-verse. This might seem a bit odd, but this is actually very handy for games which the default control setups just don't feel right! (Alex Kidd comes to mind) It seems the designers of this joystick really did think of everything. It's solid, it's stylish and it feels great to use.
Now, here's the downside. If you haven't already guessed, this joystick was not released outside of Japan by ASCII. This may mean you will have to search around for one of these and import it. There are are similar style joysticks available in Europe and USA from other companies but I couldn't tell you how similar in terms of quality and features these are.
In conclusion this really is a great joystick. If you were ever going to use a Master System to create a home arcade cabinet this is the joystick to use. Forget about Sega's official Control Stick. This is the joystick design Sega should have used. Even without the turbo features and button reversal this joystick is still ahead of the official Control Stick. Kudos to ASCII, may the live long and prosper.