From July 2011 to March 2012 (9 months), the Sega8bit Games Tournament was held over on our forums. It came together thanks to the dedication and organisation of forum member Batman666. A whole-hearted thanks goes out to him for making this feature possible.
The tournament involved 295 games from the Sega Master System library, 61 polls and over 2000 votes. Games were randomly drawn together and forum members would place their votes based on nostalgic favourites or whichever they thought were technically better. A forum thread was created for each poll, so interesting discussions could be had about the reasons for people's picks, as well as the sharing of opinions and memories.
A spreadsheet detailing all of the voting can be downloaded below: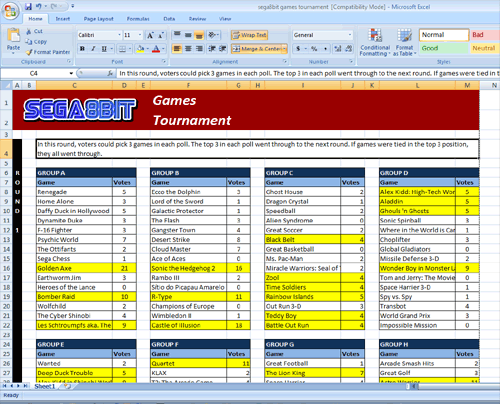 Click here to download an Excel Spreadsheet of the tournament results

Unsurprisingly, the console's 2 greatest games (based on our Top 100), Sonic the Hedgehog and Alex Kidd in Miracle World, ended up battling it out in a close final.
Here are some interesting insights gleaned from the tournament:
Of the games that made it to the last 16, 10 of them were in the Top 20 games for the system.


Master of Darkness perhapsmade the biggest improvement on it's Top 100 position (37) by making it all the way down to the last 5.


As Wonder Boy III and Sonic were both only narrowly beaten by Alex Kidd in Miracle World, a 'just for fun' match-up was had between the two. Sonic won by 13 votes to 12.


From Round 2 onwards (when only one vote could be made), there were an average of 26 votes per poll. The quarter-final match between Alex Kidd in Miracle World and Wonder Boy III garnered the most votes (33 altogether).


Of the 134 games released after 1991, only 7 appeared in the final 33. They don't make them like they used to!


In the head-to-head rounds, the biggest winning margin was 81% when Castle of Illusion destroyed poor Micro Machines.