n/a
Translated from Portugese: "EEEEHE! EEEEHE! HE, HE, HE, HE, HE!!! End of the year. Tests are over, so is school. The climate was perfect for an excellent vacation. Everything was packed, the TV, the music, the food... The whole group was ready for a long but pleasant trip to the mountains. While on the journey, they reached a passage and decided "what a great spot for a picture!" After a "click" and "flash" his entire group had disappeared, leaving Woody Woodpecker puzzled by his vanishing friends. This had to be a dirty trick by Zeca Urubu. It's kind of ironic that you're playing a game with some of the most famous cartoon characters in television history. The difference is that you are in control."
No cheats on Record
Manual Scan
Férias Frustradas Do Pica Pau (Brazil, Complete)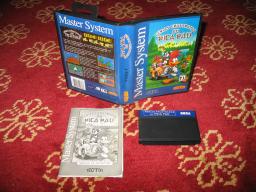 ---
No related pages available.